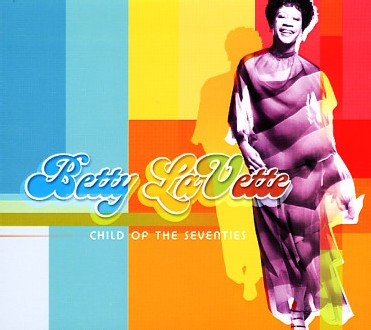 While European soul aficionados have celebrated Michigan-born soul sensation Bettye LaVette since her all-time classic 1965 single "Let Me Down Easy," U.S. critics and record buyers have mostly discovered her through a very recent flurry of activity. She won a W.C. Handy Award for her 2003 release A Woman Like Me, and made her Anti Records debut with 2005's highly acclaimed I've Got My Own Hell To Raise. A performance on the David Letterman show followed, as did praise from such fellow artists as Elvis Costello and Bonnie Raitt.
She should have gotten that kind of attention 33 years ago.
Betty (later spelled Betty) LaVette was poised for a breakthrough when, in 1972, Atlantic Records sent her to Muscle Shoals to record what would have been her first complete album. There she cut 12 sides with producer Brad Shapiro, best known for his work with Millie Jackson. The album was to be titled Child Of The '70s, but it was shelved on the eve of a promotional tour. Considering the record her best work to date, LaVette consequently retreated to seclusion in Detroit.
The complete album (which has seen proper release only in Europe on a 2000 issue made possible by French R&B expert Gilles Petard) is included here in its entirety, along with unreleased tracks from two more Atlantic/Atco sessions, plus four Atlantic singles—two from the early '60s, two from the early '70s.
Child Of The Seventies is available as an individually numbered limited edition of 7,500 copies.
http://www.rhinohandmade.com/browse/ProductLink.lasso?Number=7899
TRACK LISTING
It Ain't Easy (2:26)
If I Can't Be Your Woman (3:49)
Fortune Teller (3:37)
Your Turn To Cry (3:13)
Soul Tambourine (2:39)
All The Black & White Children (3:44)
Our Own Love Song (4:35)
Ain't Nothin' Gonna Change Me (2:47)
Outside Woman (2:29)
The Stealer (2:23)
My Love is Showing (3:21)
Souvenirs (6:29)
Waiting For Tomorrow (3:16)
Livin' Life On A Shoestring (3:15)
Your Turn To Cry (Mono-Single) (3:13)
Soul Tambourine (Mono-Single) (2:38)
Heart Of Gold (2:20)
You'll Wake Up Wiser (2:10)
Here I Am (2:48)
You'll Never Change (2:45)
My Man (2:42)
Shut Your Mouth (2:35)