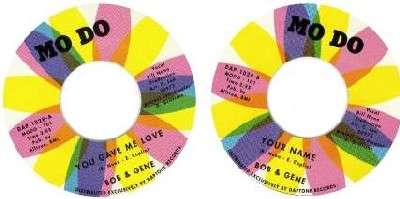 www.daptonerecords.com http://www.myspace.com/daptonerecords
http://www.myspace.com/daptonerecords
In Soul's prime, Darrell Banks, Donnie Elbert, Dyke and the Blazers, and Jimmie Raye all left their home town of Buffalo, NY. Resident William Nunn stayed behind with good faith in the ground under his feet. During the fall of 1967 Nunn began assembling a recording studio in the basement of his own house and opened a club in the city. Both outlets would give young resident talent and touring Soul stars an opportunity to record and per form in his home town. Today, an untold mass of brittle and profound Soul and Gospel recordings remain. Self-made, close to home and close to heart; the recording's on William's MoDo imprint playback with unconventional humanity and anomalous presence.
Though only fifteen at the time, William's son Bobby Nunn and friend Eugene Copeland from down the street, would be MoDo Records' first vinyl outing. They were billed as Bob & Gene, and though "
You Gave Me Love
" was the first of many 45's they would release on MoDo, their full length album "If This World Were Mine" never made it to press. In January, Daptone Records will be proud to release this album in its entirety for the first time.