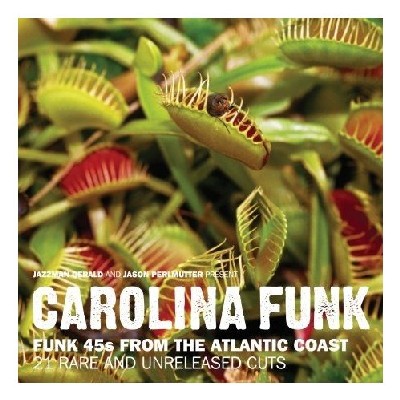 Funk 45s from the Atlantic Coast

Jazzman records continues its quest to uncover the best and rarest Funk ever recorded, and after the success of last year's 'Florida Funk', we've moved up the Atlantic coast to look at the vibrant and original scene in the two rural states of North and South Carolina – collectively known as the Carolinas.
Bordering the Bible belt, the Carolinas share the hidebound reputation of neighbouring Tenessee – and without any large urban centres, much of the musical output of the Carolinas has been limited to single towns, with bands and their records seldom venturing further than the state line.
Funk 45 label boss Jazzman Gerald and resident North Carolina collector Jason Perlmutter have selected 22 of the rarest and most coveted examples of heavy funk from the Atlantic Coast to show the world there is more to the Carolinas than tobacco plantations and venus fly traps!
From inspired percussive instrumentals to heartfelt slabs of soul; from rediscovered tapes in the garages of retired musicians to funk 45s so raw that they were blessed by James Brown himself – this is Carolina Funk!


· The rarest and most coveted funk 45s from North and South Carolina, in demand by collectors and DJs around the world.
· Includes three previously unreleased tracks, sourced from original studio tapes and acetates.
· All tracks fully licensed and restored from original sources.
· Original stories direct from the musicians and artists
· 24 page colour cd booklet with in-depth liner notes, label scans and previously unpublished photographs
· Cover photo shows the Venus Fly-Trap, native to North Carolina.
· Original copies of some of these 45s have sold for $1000 and more – making this by far the easiest and best way to discover the rich musical heritage of North and South Carolina

Tracklisting :

1. Primitive - "Creation Of Music"
2. Gamith - "Darkness"
3. Innersouls - "Just Take Your Time"
4. Dynamite Singletary - "Super Good"
5. Mongoose - "King Cobra"
6. Sul Impossibles - "Interpretation - Soul Power No 1"
7. Carleen & The Groovers - "Can We Rap"
8. Sundia - "Stand Up & Be A Man"
9. Shirlean Williams & The Tempo's Band - "Ease It To Me"
10. Frankie & The Damons - "Bad Woman"
11. Roy Roberts - "You Ain't Miss It" (previously unreleased)
12. Communicators & Black Experience Band - "The Road"
13. The Soul Drifters - "Funky Soul Brother"
14. James Reese & The Progressions - "Let's Go (It's Summertime)"
15. Paul Burton - "So Very Hard To Make It (Without You)"
16. Wally Coco - "Message To Society"
17. Anthony Burns - "Doing What You Need To Do"
18. The Black Exotics - "Theme Of Blackyrds"
19. Donnie Brown - "Funky Mind"
20. George Campbell - "Good Time"
21. JD's - "Funky Party Time" (previously unreleased)
22. The Ultimates - "Progressive Movement" (previously unreleased)

En savoir plus :
LIENS
www.jazzmanrecords.co.uk
INTERVIEW
Interview de Gerald Jazzman, fondateur du label
lire +++
ARTICLES
Tous nos articles sur Gerald Jazzman
>>> ici
AGENDA
Gerald Jazzman en dj set
>>> voir les dates
ACHATS
Ecouter et acheter ce disque sur
Amazon
En passant par ce lien pour acheter votre disque sur Price Minister nous toucherons une commission qui nous aidera à maintenir ce site. Merci de votre soutien !
Meshell - 2007