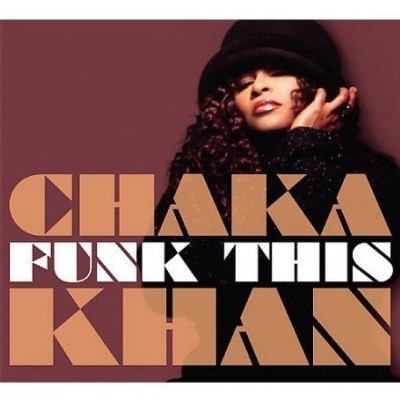 Tracklisting
:
1. Back In The Day
2. Foolish Fool
3. One For All Time
4. Angel
5. Will You Love Me?
6. Castles Made Of Sand
7. Disrespectful (Featuring Mary J. Blige)
8. Sign 'O' The Times
9. Pack'd My Bags/You Got The Love (Featuring Tony Maiden)
10. Ladies' Man
11. You Belong To Me (Featuring Michael McDonald)
12. Hail To The Wrong
13. Super Life
Press Released :
International recording artist and industry legend Chaka Khan to release first new studio project in 10 years. FUNK THIS is a return to Chaka Khan's funky/R&B roots produced by hitmakers Jimmy Jam & Terry Lewis. In stores on September 25 on Sony BMG/Burgundy Records.
FUNK THIS contains collaborations with musical powerhouses Mary J.Blige and Michael McDonald.
Celebrating over three decades of milestones, CHAKA KHAN will release her first new studio album in over 10 years. Khan's music and celebrity have influenced generations of fans and contemporary recording artists setting standards across every music genre: Pop, Rhythm & Blues, Rock, Disco, Soul, Jazz, Hip Hop and even Classical. Chaka Khan is a musical Icon.
FUNK THIS produced by the Grammy Award winners Jimmy Jam & Terry Lewis embodies the funky soul of her musical roots with Rufus and her signature passionately-honest vocal styles that make Chaka Khan timeless.
"T
he album may remind people of my early Rufus albums because I'm in a similar 'soul space.' I've been on a little journey in the last few years,
finding Yvette again." (Referring to her birth name) "
I went through a period of being insecure. I'm walking a different path now.
I've changed. This album is different from any other album I've recorded because it reflects what I'm about, who I am now. The album is called, 'Funk This!' because it's funky!
"
The thoughtful work ranges from original copyrights, collaborations with superstar artists, to adding her signature stamp on important contemporary classics.
The collection includes fresh renditions of Prince's "Sign 'O' the Times"; a duet with Michael McDonald on "You Belong To Me," a song he co-wrote with Carly Simon, Joni Mitchell's "Ladies' Man," Jimi Hendrix's "Castle Made Of Sand," the soul classic "Foolish Fool" and Rufus medley of "Pack'd My Bags," and "You Got The Love."
FUNK THIS original's include "Disrespectful," the tour-de-force duet with powerhouse Mary J. Blige, a poignant poetic ballad, "Angel," the acoustic "One For All Time" penned by Chaka and Terry Lewis, the deeply beautiful and soulful "Will You Love Me?" and self affirming "Super Life" among others.
Eight-time Grammy Award winner singer, songwriter and community advocate - Chaka Khan has been active in lending her support to the community for many years. The Chaka Khan Foundation, founded in 1999, raised over $1.4 million through its funding raising efforts last
year alone. The Foundation assists women and children at risk and benefits Autism research, awareness and therapy. For more information, please go to
chakakhanfoundation.org
.
Track Listing:
En savoir plus :