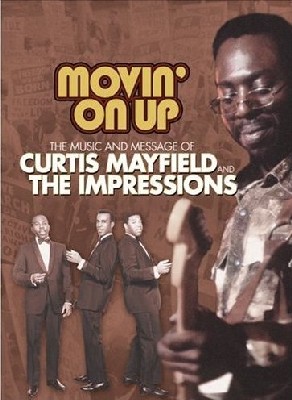 Beau DVD consacré à l'immense talent de Curtis Mayfield. Pas moins de 22 passages télés en solo ou avec les Impressions, son groupe des débuts et des interviews de Chuck D, Johnny Pate, Fred Cash et Sam Gooden, membres des Impressions.
Un documentaire essentiel pour tous les amoureux de sa musique.
It's All Right (1965)
Woman's Got Soul (1965)
I Need You (1965)
People Get Ready (1965)
Meeting Over Yonder (1965)
We're A Winner/Amen (1968)
This Is My Country (1970)
Choice Of Colors (1969)
Check Out Your Mind (1970)
(Don't Worry) If There's A Hell Below, We're All Going To Go (1970)
Keep On Keeping On (1972)
We Got To Have Peace (1972)
We The People Who Are Darker Than Blue/Give Me Your Love (1972)
Superfly (1972)
Freddie's Dead (1972)
Pusherman (1972)
Eddie You Should Know Better (1973)
Future Shock (1973)
The Makings Of You (1970)
BONUS PERFORMANCES
We're A Winner (1972)
Mighty Mighty (Spade And Whitey) (1972)
We The People Who Are Darker Than Blue (1972)
Move On Up (1972)
Freddie's Dead (1973)
Plus de détails sur
reelinintheyears.com/pr23.html
Curtis Mayfield and the Impressions didn't just make music, they sent
great sounding and universally useful social messages and it's no exaggeration to say their records were the true heart and soul of many a disc collection. (Just mention the name Curtis Mayfield and a deep warm feeling arises in nearly anyone who has ever heard and been moved by he and they.)
This splendid DVD overview of Curtis, Fred and Sam was long overdue. In addition to welcome video footage including Germany's legendary Beat Club,the Joey Bishop show, "In Concert", some corny Dick Clark staging and much more we get to witness Mayfield's impact be given a proper and fitting perspective from those who were there.
Hearing the Curtis story from the mouths of his wonderful wife Altheida, surviving Impressions Fred Cash and Sam Gooden, Andrew Young, producer Johnny Pate and musicians Carlos Santana and a revealingly impressive Chuck D we learn of ths history, impact, and driving force behind the sound on both the personal and macro levels. And as many of us have always known,that driving force was Curtis's deep love for not just music but for humanity,which,through composition he aimed to bring together.
Bravo to the director, producers and interviewer for this labor of love and gift to fans and will be fans. The gospel of Curtis and company is one that,even now, could benefit our world.Plus his music had a beat..and you could dance to it-even when you danced,as sometimes evidenced here, horribly!
En savoir plus :