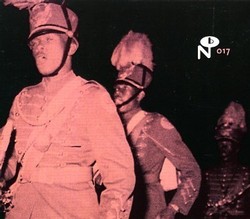 Nouvelle compilation sur le fabuleux label Numero (de Chicago) consacré cette fois ci au son de Miami, soul & funk confondu.
La qualité des sorties de ce label est telle que j'aimerais vous dire de vous procurez les différentes compilations les yeux fermés.
Tous les détails sur
www.numerogroup.com
En anglais :
After a box of 'lost' Deep City master tapes turned up in January of 2007, the Numero label were faced with an idea both fascinating and ugly: sequel.
Instead of rehashing old news, The Outskirts of Deep City colours in the spaces left open by its predecessor. In addition to seven previously unissued tracks Numero have added related gems from the Solid Soul, Sun Cut, Reedsville, Lloyd, and Concho labels. Artists include Betty Wright, Helene Smith, Clarence Reid, James Knight and the Butlers, Snoopy Dean, the Rollers, Frank Williams & The Rocketeers, Lynn Williams, Perk Badger, and the Rising Sun!
Tracklisting & audio :
www.soundsoftheuniverse.com/releases/?id=10817
1. the Rollers — knocking at the Wrong Door
2. Clarence Reid — No Way Out
3. Helene Smith — What's In The Loving
4. Betty Wright — Mr Lucky
5. James Knight and the Butlers — There Goes my Baby
6. Lynn Williams — Don't Be Surprised
7. Helene Smith — True Love Don't Grow on Trees
8. The Rising Sun — Do What You're Doing
9. The Rollers — One Little Piece
10. Clarence Reid — Don't Be a Fool
11. Perk Badger — Do Your Stuff
12. Frank Williams — Show Me What You Got
13. Deep City Band — Masterpiece
14. Helene Smith — The Pot Can't Talk about the Kettle
15. The Rollers — Play With Fire
16. Betty Wright — Thank You Baby
17. Helene Smith — Wrong or Right
18. Nasty Dog Catchers — Nasty Dog
19. the Rising Sun — One Night After
20. Snoopy Dean — Your Love Wont Let Me LEave You