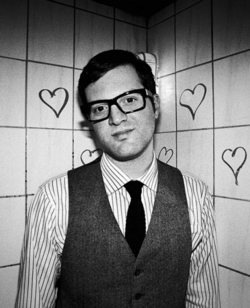 Stones Throw a déniché son nouveau poulain estampillé soulman, A.O.C dans le Michigan, dans la ville de Ann Arbor pour être précis. Soit pas très loin de Detroit le fief de la Motown comme vous le savez et ce sous la recommandation de Noelle Scaggs du groupe The Rebirth.
Peanut Butter Wolf, le boss du label a d'abord été sceptique en l'écoutant "Quoi ? Ce ne sont pas tes propres chansons ? Ce ne sont pas des reprises ? Tu joues de tous les instruments ? Et en plus t'es blanc (et pas très photogénique faut dire...) " mais il l'a quand même signé après avoir entendu seulement deux chansons, chose très rare pour le label dixit le boss.
Mayer joue de plein d'instruments mais il ne se voyait pas chanter, pourtant c'est bien lui qui chante. La vie est bien faite non ?
Malgré tout ces handicaps, il a été adoubé par Mark Ronson (producteur de Amy Winehouse entre autres) et Gilles Peterson (ils ont dit que c'était bien donc vous pouvez aussi dire que c'est bien en public), il a donc acquit aussi sa music credibility (z'ont dit que c'était bien donc c'est bien, ok !).
L'album est fin prêt pour la rentrée. Et ce sera sûrement annoncé comme la nouvelle, nouvelle, nouvelle révélation soul de l'année.


Ps : Malgré toute l'ironie sous-sous-jacente à cet article, j'aime beaucoup.
Ps 2 : Oui c'est écrit comme un blog...


Le communiqué de presse en V.O :

Mayer Hawthorne grew up in Ann Arbor, Michigan, just outside of Detroit, and vividly remembers, as a child, driving with his father and tuning the car radio in to the rich soul and jazz history the region provided. "Most of the best music ever made came out of Detroit," claims the singer, producer, and multi-instrumentalist, who counts Isaac Hayes, Leroy Hutson, Mike Terry, and Barry White among his influences, but draws the most inspiration from the music of Smokey Robinson, Curtis Mayfield, and the legendary songwriting and production trio of Lamont Dozier, Brian Holland, and Eddie Holland Jr.

The "retro" tag is added to almost any contemporary work that sounds like it was originally recorded between 1966 and 1974, and Hawthorne, among the newest contributors to the genre, is aware of how trends come and go. After being introduced to Stones Throw label head Peanut Butter Wolf by mutual friend Noelle Scaggs of the Rebirth, even his current boss was skeptical. "He showed me two songs and I didn't understand what I was listening to," Wolf recalls. "I asked him if they were old songs that he did re-edits of – I couldn't believe they were new songs and that he played all the instruments."

And after meeting in person, it was even harder for Wolf to believe that Hawthorne was also the lead vocalist. Few expect such heartfelt sentiment to come from a 29-year-old white kid from Ann Arbor, but he has caught the ear of his family at Stones Throw, as well as BBC Radio 1 host Gilles Peterson and producer/DJ Mark Ronson. Expectations are high for the admitted vinyl junkie who never planned on taking his crooning public. Hawthorne's hanging-by-a-string falsetto and breakbeat production on his first recorded effort, the tender "Just Ain't Gonna Work Out," are simultaneously Smokey and J Dilla – equal parts "The Tracks of My Tears" and "Fall in Love." "It's soul," he explains, "But it's new."

Hawthorne has produced and played instruments for much of his life, but never intended to become a singer. He isn't formally trained, and never sang in the church choir or in any of the bands he was in before founding the County (formerly the County Commissioners). But here he is, new school soul sensation, who has taken the Motown assembly-line production model and eliminated nearly every element but himself and a few hired hands. "I think Mayer is the only artist in the history of the label that I've signed after hearing only two songs," says Peanut Butter Wolf. "Sometimes, you just know it's the right thing to do."

And for those willing to believe anything is possible, be grateful to have Mayer Hawthorne on the scene. It's not just throwback music anymore – this revival is all about progression.
Le clip :
Mayer Hawthorne - "Maybe So, Maybe No"
The New Holydays - Maybe So, Maybe No
Et oui, c'est une reprise !