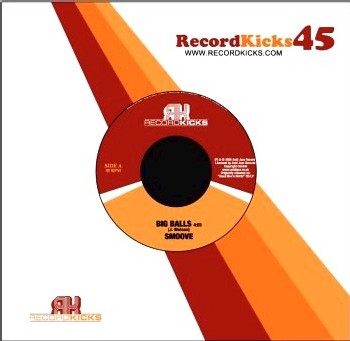 Side A: Frank Popp Ensemble "Leave me alone"
Listen here: http://www.recordkicks.com/samples/FrankPopp.mp3

Side B: Big Boss Man "The Hawk"
Listen here: http://www.recordkicks.com/samples/BigBossMan.mp3

RecordKicks45 is a new collection of 7'' made up especially for Clubs and dedicated to the best of contemporary funk, soul and dance-floor jazz scene. Each 45 features 2 tracks by 2 artists, one instrumental and one vocal. Both tracks have a sound dance-floor flavour. With two heavyweights of the contemporary soul-mod scene, such as Frank Popp Ensemble and Big Boss Man, its first release will come with a tremendous blast! The Frank Popp Ensemble is featured on Side A with "Leave me alone", the R&B / northern soul stomper directly taken from their newest album "Touch and go" (Unique Records). Able to set any dance floor on fire "Leave me alone" is a strong candidate to succeed to "Hip Teens (Don't wea r blue jeans)", the track thanks to which the Düsseldorf based Ensemble, ably lead by DJ and 7'' collector Frank Popp, climbed half of the world's charts.

The Frank Popp Ensemble has been skilfully matched with London's Big Boss Man, an absolute cult band in the international mod scene. The groovy dancefloor jazz track "The Hawk" is an excerpt of their new album "Winner", which has just been released by Blow Up Records. Big Boss Man, who formed at the end of the 90s, boast fans such as big shots Thievery Corporation and Paul Weller, for whom they have remixed the single "The Bottle". The band is strongly bonded to the renowned Blow Up, where they got their first gig in 1999 when it was situated at the legendary "Wag club". Blow Up Records released also Big Boss Man's first album "Humanize", which was much acclaimed by the world's specialized press. Essential to every funk, soul and rare groove DJ!