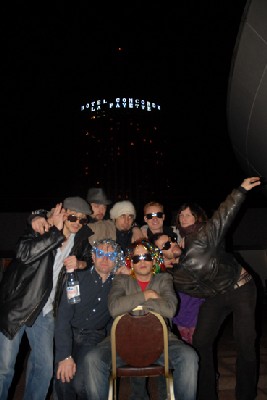 Nom du Groupe / Artist or Band's Name
: FUNK YOU VERY MUCH
Label (si pas de label inscrire : Autoprod)
: Autoprod
Site internet / Website
:
www.myspace.com/funkyouverymuch94
Ville / City
: Paris
Présentation du groupe / Band Profile (please include current members, what they play, and year they joined band)
Ensemble depuis 2000 mais vraiment formé en 2005, Funk You Very Much, c'est au départ des potes de lycée qui se réunissent dans une cave de l'est parisien autour d'une passion commune: la musique! Quel style? Un cocktail détonnant d'influences dont les ingrédients principaux seraient la funk, la soul parfois mélangés à une petite dose de jazz, de hip-hop voire de rock...toujours servi avec chaleur, groove et bonne humeur par une équipe de choc!
Benjamin El Guitarist Rosier, guitare - Aurélien Doctor Trapp, basse - Sylvain Mc Fly Gitton, batterie - Ryadh Fingers Mehamha, claviers - Eric Bongo Alberto, percussions - Grégoire Starsky Baclet, sax alto - Natacha Veibert, chant - Héloïse Godet, chant - Guests : Stephane Viera, sax alto - Pascal, trompette - Damien, sax alto, flûte traversière - Jean-Jacques, guitare - Isma, chant.
Quelle est votre actualité ? What are the news ?