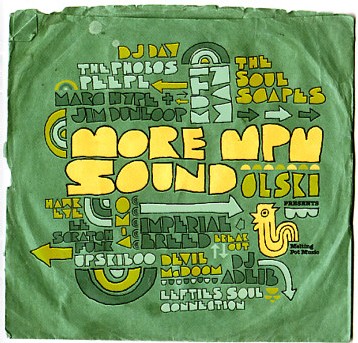 Compilé par Dj Olski, boss du label allemand Melting Pot Music, ce disque est une présentation des différents artistes du label.
Plusieurs reprises de classiques hip hop à la sauce funk enervé "Planet Rock", "Organ Donor" et "The Mexican".
01. Breakout - Planet Rock
02. DJ Day - Gone Bad
03. DJ Adlib - Everyday feat. MED
04. The Phobos Peepl - Bike Ryder
05. Kutiman - No Groove Where I Come From*
06. Imperial - Breed On The Run
07. Devil McDoom - Watching Sleazy UFOs Passing By*
08. The Soul Scapes - Summer Soul*
09. A-ko - Chicago
10. Le Scratchfunk - The Go Off!!
11. Lefties Soul Connection - Organ Donor (Hawkeye Hyphy Edit)*
12. Hawkeye - Meet Me At The Roosvelt*
13. Marc Hype & Jim Dunloop - The Mexican feat. Sara Bourgeois (Radio Version)*
14. DJ Day - Lovebug
15. Upskiboo - Search Song
* unreleased
En écoute sur
www.juno.co.uk
En savoir plus :