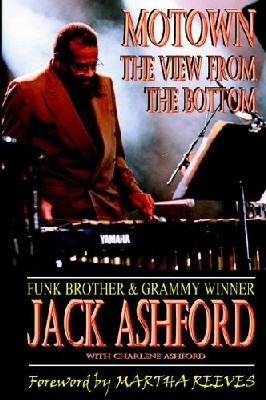 Book Description :

Jack Ashford is the man whose percussion playing provided the relentless pulse that drove the classic Motown beat. The Supremes, The Temptations, Four Tops, Smokey and The Miracles danced and sang to Jack's time. His tambourine hissed and spat the bad news on Marvin Gaye's Grapevine and his vibes rang out joyously behind Mary Wells, Jimmy Ruffin, Martha and The Vandellas and Gladys Knight.

Throughout Motown's glory years, as stars came and went, Jack was there with the other Funk Brothers, in the background, never missing a beat, laying the foundation – the 'bottom' – that their success was built on.

At long last, with the reformation of the Funk Brothers and the making of their movie, Standing In The Shadows of Motown, Jack is no longer in the background. It's his turn to come up front and tell what he knows.

And what he knows is worth knowing. He tells untold stories from the Snakepit (Hitsville's legendary Studio A), gives us new perspectives on the producers, musicians and artists of classic Motown and takes us with him through his extraordinary life.

It's all there – his charmed military career, his business ventures, his early days as a jazzman, the meeting with Marvin Gaye that changed his life, touring with Motown acts at home and in Europe, freezing and starving in English hotels, memories of friends and colleagues at Hitsville, the tragic dismantling of the Detroit operation and life after Motown.