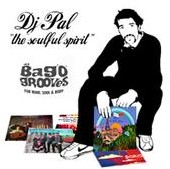 Nom du Groupe / Artist or Band's Name
: Mr Pal
Label (si pas de label inscrire : Autoprod)
: Bag'ogrooves - Big Cheese Records
Site internet / Website
:
www.palprod.com
Ville / City
: Paris
Présentation du groupe / Band Profile (please include current members, what they play, and year they joined band)
Welcome to Bag'o'grooves , the Music Label of Palprod, the soulful spirit Agency from Paris, France.
We evolute in the Rare Grooves Universe & research great applications in soul, jazz, funk, afro beat, pop, latino, easy listening music & culture ... from all around the world.
Powered by DJ Pal since 1990, crate digger & soul jazz funk afro latin music lover, organisator of some funky parties with his Bag'o'Grooves Dj résidence, Big Cheese Records & Play it Kick it ...
Together, they burn all local & international dancefloors !
Enjoy his musical excursion into the 60's & 70's era. He plays Rare Grooves from around the world with a very dancefloor optic project !!! Organisator of the Paris Rare Groove Day with Friends Play it kick it & Modaction, they keep the scene alive. Also Mix dj's, Art direction & Compilations for Big Cheese Records & other Label Organisations.
Musical Graphic designer Too. Explore his universe and go to his Website :
www.palprod.com
.
Stay Tuned !
Out records by Dj Pal
Ink audio ( Indestructible ) Maxi
4 Singles (Bagogrooves) 7' Sp
Extended mix (Bagogrooves) CD
Graphic Paintings (Bagogrooves) CD+GOODIES
Funk Fu 2 et 1(Big Cheese Records) CD & LP