Bag'o'Grooves, Play it Kick it, Soul Sauce & La Flèche d' Or

....présentent ....

SAM 23 SEPT 2006
DE MIDI à 06H DU MATIN NON STOP !!!


A Music Explosion into the 60's and 70's
PARIS RARE GROOVE DAY #2
http://www.myspace.com/parisraregrooveday

JOURNÉE CULTURELLE & MUSICALE DANS L'UNIVERS DES 60'S & 70'S.
CONVENTION DISQUES / HAPPENING / LIVE / DJ'S & FUNKY THINGS...






>>> THE DAY <<<
Entrée public: 1 euro de 12h à 19h
12H-19H
CONVENTION DE DISQUES SPECIALISÉE
60's 70's MUSIC
SOUL-FUNK-JAZZ-POP-ROCK-AFRO-LATIN-BRASILIAN-SOUNDTRACKS & MORE ...
50 Stands Vendeurs en LP/45T Classics & Rareties, Wears, Animations,
Labels, Books,Videos & More ... ( inscriptions en cours )
Avec "PRGD" Organisation, Cha cha cha éditions ( olivier ), Wegofunk crew,
Aljama record (jb), Gregoire (Diaspora), Funkishere, Dandy lyon, Fabricio,
Domisoul, Oilvier & jaures, Vinylmania, Ronan, Captain collector, Washboulah (nico),
Prince thorens ( christophe ), Gwen (iueke.com), Remi joigneaux, Jpx, Sofiane (groovy rec),
Thierry deschamps, Bruno thore,French attack crew, Jean luc, Freddy steady,
Bert underground, Larbi, Myfunk, Worldsoul & Many Others ....
Inscription Vendeurs jusqu'au 2 Septembre 2006
contact Olivier:
modaction@hotmail.com
SUPER DJ'S line up toute la journée avec
El Superfreak -
www.myspace.com/elsuperfreak
Sasham 67 -
www.myspace.com/sasham67
Smokey - Radio Generations
Fisherman-price -
www.frenchattack.com
JB Aljama -
http://aljamadiscs1.free.fr
Mys 35 Wegofunk -
www.wegofunk.com
Dj Chabin "l'ancien" - Radio Mediatropical
Do-me Sausage records-
www.sausage-records.com
Fabricio -
Domisoul -
and "surprise" guest + Deco & Projections Videos.
>>> THE NIGHT <<<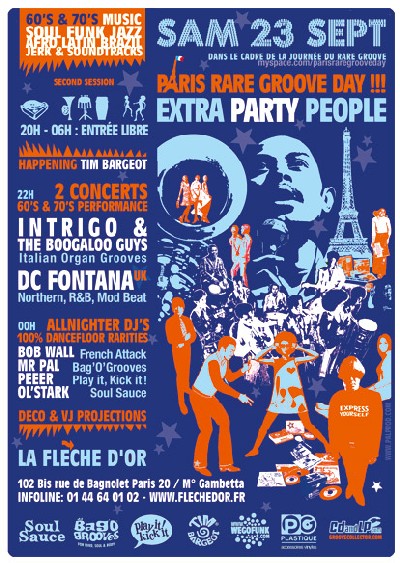 Entrée public Libre de 20h à 06h.
START HAPPENING TIM BARGEOT
(Groovy & Swingin London Dress) + Dj's
22H CONCERTS
INTRIGO & THE BOOGALOO GUYS
( Italian Organ Grooves )
have a look at:
www.chiccaandriollo.com
DC FONTANA (Uk)
( Northern soul , R&B , Mod Beat )
www.dcfontana.co.uk
00H-06H ALL NIGHT DJ'S / EXTRA PARTY PEOPLE
DANCEFLOOR SELECTIONS " WHAT IS RARE GROOVES !?
SOUL-FUNK-JAZZ-POP-AFRO-LATIN-BRASILIAN-BO & MORE
BOB WALL Guest ( French Attack )
www.frenchattack.com
MR PAL (Bag'o'Grooves - Big Cheese)
www.palprod.com
PEEER (Play it, Kick it Concepts )
www.playitkickit.com
OL'STARK (Soul Sauce, Modaction )
www.modaction.com
+ VJ Projections.
>>> LA FLÈCHE D'OR / PARIS <<<