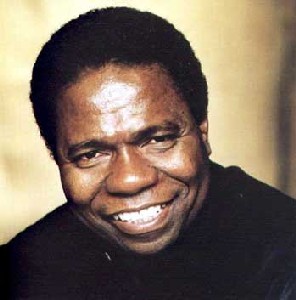 Wegofunk s'était dit qu'il fallait rendre hommage à ce destin exceptionnel qu'incarne Paulinho Da Costa. Il y a quelque temps la prémonition de cet article s'est révélé ainsi, alors que j'écoutais le premier album de
Tracy Chapman
pour l'énième fois, je remarque aux percussions :
Paulinho Da Costa
. Son nom par son origine lusophone, rempli de " carinho "… (Paulinho est une forme du prénom paulo avec le suffixe " inho " qui signifie petit affectueusement ) est resté présent à mon esprit. C'est ainsi que je me rends compte que Paulinho est dans les premiers album de
Michael Jackson
, de
Madonna
, de
Sting
, et c'est en prenant un album d'
Ella Fitzgerald
" Ella abraça Jobim "
que j'ai vu son visage noir et son généreux sourire si vrai, si explicite sur la nature généreuse de ce musicien,et la générosité est la condition sinéquanone de la bonne musique, plus que des notes les bons musiciens jouent leurs âmes pour la liberté de voler jusqu'à Saturne.
Né à Rio de Janeiro, il découvre les percussions à l'âge de 5 ans, il étudie seul, chaque son de toute sorte de percussions et finit par rejoindre plusieurs formations musicales très différentes au Brésil alors qu'il n'est encore qu'un jeune ado. Il part aux Etats-Unis.
Son amour de la musique et sa personnalité très amicale lui permirent de participer aux albums de
Quincy Jones
dont celui qui rapporta le plus à l'industrie musicale
" Thriller "
de M.Jackson mais
" La Isla bonita "
de
Madonna
",
"All night long"
de
L.Ritchie
… Pour les succès populaires, mais le jazz a aussi fait appel à lui :
Dizzy Gillepsie
,
Miles Davis
, sans compter sa contribution à une liste interminable de musique de film. Polyvalent dans les genres, difficile de ne pas considérer le caractère exceptionnel de cet artiste quand on voit tous ces noms d'artistes dans le tableau ci-desous qui traduisent une force de travail hors-normes. Difficile de ne pas considérer le fait que l'on puisse rien avoir, vivre dans la favela et décider de donner le meilleur de soi.
Paulinho DaCosta
est une personne positive et le résultat de son attitude, est une carrière exceptionnelle mais aussi l'immense bonheur qu'il a procuré à tous ces artistes par son jeu dynamique, original, à un moment où les gens comme Quincy étaient à l'apogée des arrangements rythmiques, "
Don't stop 'til get enough
" sur l'album "
Off the wall
" de M. Jackson en 1980. Son dynamisme, sa capacité à innover et ses réels talents de producteurs ont donné naissance à Agora, Happypeople, Sunrise, Breakdown, ses albums solo.
En reconnaissance de son immense talent, le "National Academy of Recording Arts and Sciences" l'a élu "Musicien le plus remarquable" pendant trois années consécutives et a reçu le "Musicians Emeritus Award".
Sa dextérité a fait de lui "
un virtuose des percussions
" selon le Los Angeles Times ou encore "
un des plus talentueux percussionnistes de notre temps
" pour le Downbeat Magazine.
En savoir plus :
LISTES DES ARTISTES avec lesquels Paulinho Da costa a travaillé :
Ahmad Jamal
Air Supply
Akima Asakura
Al Jarreau
Alice Cooper
Allen Toussaint
Amanda
America
Amy Grant
10 Andre Crouch
Andy Narell
Andy Taylor
Angela Bonfill
Anita Baker
Ann Nesby
Aretha Franklin
Art Porter
Atlantic Starr
Average White Band
20 B. B. King
Babyface
Band Of Pleasure
Barry White
Belinda Carlisle
Bette Midler
Bill Cunliff
Bill Medley
Bill Sharpe
Bill Whithers
30 Billy Preston
Bob Dylan
Bob James
Bob Seger
Bobby Lyle
Bobby Mcferrin
Bobby Womack
Boney James
Bonnie Raitt
Booker T.
40 Boys Club
Breakfast Club
Brenda Russell
Bridge
Bruce Gaitsch
Burt Bacarach
By All Means
Cachao
Carlos Toshiki
Carole Bayer Sager
50 Celine Dion
Chaka Khan
Chante Moore
Charles Veal
Charo
Chayanne
Cher
Cheryl Lynn
Chicago
Chris Beckers
Christopher Cross
Claus Ogerman
Cruzados
Curtis Mayfield
Dalilah
Dave Koz
David Foster
David Sanborne
De Barge
Demis Roussos
Diana Ross
Dianne Reeves
Dionne Warwick
Dizzy Gillespie
Djavan
Doc Severinsen
Dolly Parton
Donna Summer
Dori Caymmi
Eagles
Earl Klugh
Edu Lobo
EL 3
Elton John
Emotions
Enrique Iglesias
Eric Carmen
Eric Marienthal
Ernestine Anderson
Ernie Watts
Euge Groove
Everette Harp
Frank Stallone
Frankie Valli
Freddie Hubbard
Gap Band
Gap Mangione
Gato Barbieri
Gene Page
George Howard
100 Gerald Albright
Gino Vannelli
Gladys Knight & The Pips
Gloria Branigan
Gloria Gaynor
Greg Philliganes
Harvest
Heitor
Henry Mancini
Henry Salvadore
Herb Alpert
Hiroko
Hiroshi Sato
Hiroshima
Hitomi Tohyama
Howard Hewet
Ilse
Imperial
Irene Cara
Ivan Lins
J. T. Taylor
James Ingram
Janet Jackson
Jeff Lober
Jelly Bean Benitez
Jennifer Holiday
Jennifer Warnes
Jermaine Jackson
Jimmy Reid
Jimsaku
JoÃo Bosco
JoÃo Gilberto
Jody Watley
Joe Cocker
Joe Pass
Joe Satriani
John Denver
John Patitucci
Johnny Guitar Watson
Jojo Alves
Jon Secada
Jonathan Butler
Jorge Ben
Jose Feliciano
Jose Jose
Josee Koning
Julio Iglesias
Julio Iglesias Jr.
Junichi Kawauchi
Karyn White
150 Kazu Matsui
Kenny G
Kenny Loggins
Kenny Rogers
Kieth Washington
Kirk Whalum
L.T.D.
Lalo Schiffrin
Lamont Dozier
Lani Hall
Larry Carlton
Larry Graham
Le Maccan
Lee Ritenour
Lenny White
Lenny Williams
Level 42
Linda Ronstadt
Little River Band
Living In A Box
Liza Minelli
Luis Miguel
M.takanaka
Madonna
Manhattan Transfer
Marcus Miller
Maria Bethania
Marilyn Scott
Mark Portman
Marlena Shaw
Masami Nakagawa
Melissa Manchester
Michael Beecker
Michael Bolton
Michael Mcdonald
Michael Omartian
Michael Sembello
Michel Colombie
Miles Davis
Milt Jackson
Mindy Mccready
Minnie Riperton
Miracles
Mystic Merlin
Nancy Wilson
Natalie Cole
Neil Diamond
Neil Larsen
Ney Matogrosso
Nino Buonocore
200 Norman Brown
Norman Connors
O'bryan
Offspring
Oscar Castro Neves
Ozone
Pat Coil
Patrice Rushen
Patti Austin
Patti Brooks
Patti Coil
Patti Labelle
Patty Weaver
Paul Anka
Paul Horn
Paul Jackson
Paul Kelly
Paula Abdul
Pauline Wilson
Peabo Bryson
Peaces & Dreams
Peaches & Herb
Phil Collins
Phillip Bailey
Phillip Mitchell
Pia Isadora
Pockets
Prince
Ramsey Lewis
Randy Newman
Rene & Angela
Ricardo Silveira
Richard Marx
Rick Braun
Ricky Martin
Rita Lee
Robbie Nevil
Roberta Flack
Roberto Carlos
Rockie Robbins
Rodney Franklin
Ronald Isley
Ronnie Laws
Rosemary Clooney
Rufus
Sadao Watnabe
Sarah Vaughan
Savannah Band
Seal
Seawind
250 Sergio Mendes
Shirley Bassey
Shoko Suzukif
Simone
Smokey Robinson
Spinners
Stan Getz
Stanley Clarke
Stanley Turrentine
Stanley Turrentine
Stephanie Mills
Steven Curtis Chapman
Stewart Copland
Sting
Stix Hooper
Stonies Ix'Ix
Susan Osborn
T. Connection
Tania Maria
Taste Of Honey
Tata Vega
Tavares
Teena Marie
Temptations
The Carpenters
The Four Tops
The Jets
The Jones Girls
The Memphis Horns
The Whispers
TLC
Tokyo Monogatari
Toots Thielemans
Toto
Tracy Chapman
Trini Lopez
T-Square New-S
Vanessa Williams
Veronique Riviere
Vesta Williams
Walter Becker
Warren Hill
Whitney Houston
Willie Nelson
Wilson Phillips
Wilton Felder
Windham Hill
Yarbrough & Peoples
Yoru Ni Kizutsuite
Yoshitaka Minami
300 Yvonne Elliman


LISTE DES B.O DE FILMS auxquelles il a participé

About last night
Ace Ventura: When Nature Calls
Against all Odds
Agatha Christie's Caribbean Mystery
Always
American Anthem
Amistad
Arthur
Austin Powers: The Spy Who Shagged Me
Backbeat
Best Friends
Blind Date
Boomerang
Can't Buy Me Love
Cannonball Run
Captain Ron
Caveman
Clean Slate
Color Purple
Coming to America
Craft, The
Dance With Me
Day of Reckoning
Days of Thunder
Desperate
Dirty Dancing
Dr. Detroit
Dry White Season
Emperor's New Groove, The
Eraser
Fast Break
Fast Forward
Father of the Bride II
Fine Mess, A
Flashdance
Flubber
FootLoose
Four Weddings and a Funeral
French Kiss
Fun with Dick and Jane
Ghostbusters II
Gods Must be Crazy II
Gorillas in the Mist
Greatest, The
Gremlins
Gremlins II
Grumpy Old Men
Hanging with Mr. Cooper
Heavenly Kid, The
Higher Learning
Home Improvement
Holy Man
Hope Floats
How to Beat the Cost of Living
I'm Gonna Get You Sucka
Jericho Mile
Jungle2Jungle
Just Between Friends-Something in Common
Karate Kid III
Knots Landing
Krippendorf's Tribe
Last Dragon, The
License to Drive
Listen to Your Heart
Long Kiss Goodnight, The
Looking to Get Out
Lost World: Jurassic Park Made in America
Making Love
Mary Thomas Story
Maximum Risk
Milagro Beanfield War
Mod Squad
Money Pit, The
Moon Over Parador
Moonlighting
Mulan
My Date with the Presidents Daughter
Never Been Kissed
Night Shift
Nothing in Common
Nutty Professor, The
Odd Couple II
Off Beat
Officer and a Gentleman, An
Osterman Weekend, The
Passing Glory
Perez Family, The
Phenomenon
Police Academy II
Police Academy III
Police Academy V
Police Academy 7
Polly
Practical Magic
Purple Rain
Quick and the Dead, The
Record City
Romy and Michelle's High School Reunion
Saturday Night Fever
Scrooged
Seduction, The
Selena
Serial, The
Short Circuit II
Singles
Some Kind of Hero
Soul Man
Spaceballs
Staying Alive
Stick
Stop or My Mom Will Shoot
Stuart Saves His Family
Swing Shift
Tap
Taps
Tequila Sunrise
That Old Feeling
There's Something About Mary
Thomas Crown Affair, The
Three Men and a Baby
Tough Guys
Toy, The
Trading Places
Unexpected Family, An
Waiting to Exhale
What Women Want
White Nights
Whoopee Boys
Why do Fools Fall in Love
Will & Grace
Wrestling Ernest Hemingway