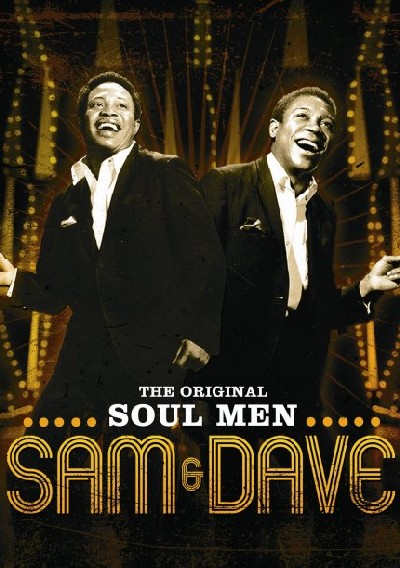 This fantastic film focuses on the Music and Careers of Legendary Soul Duo and ROCK & ROLL HALL OF FAME inductees, Including their influence on the original BLUES BROTHERS and the post Sam & Dave career of SAM MOORE.
" When you hear Sam & Dave you hear the black church" – AL BELL (Owner, Stax Records)
The two-hour plus DVD tells the story of two legendary singers, Sam Moore and Dave Prater through their early years as young Gospel performers who, under the spell of Sam Cooke and Jackie Wilson abandon the Church to form the greatest Soul Duo of all time. The
story is told with the help of 22 complete vintage concert and television Performances from 1966-80 as well as an incredible performance of Sam Moore filmed in Japan in 2007.
Also featured in the film is an extensive interview with SAM MOORE ("Sam") who traces his early career as a Gospel performer in Miami, Florida where he met Dave Prater ("Dave") at a Talent Contest he was hosting at the legendary ACE OF HEARTS Nightclub, through the hit
years touring with the likes of OTIS REDDING, BOOKER T & THE MGs and THE STAX REVIEW. Sam explores his career in detail and reveals shares many anecdotes, which are presented in THE ORIGINAL SOUL MEN: SAM AND DAVE for the first time. Also interviewed is ROSEMARY PRATER, the wife of DAVE PRATER, DAN AYKROYD and PAUL SHAFFER who discuss the
profound influence they garnered from SAM & DAVE and how that influence helped guide them in creating the persona of the legendary
BLUES BROTHERS with JOHN BELUSHI.
In addition STAX VOLT/ BOOKER T & THE MG's bassist DONALD "Duck" DUNN shares his personal stories of touring and recording with SAM AND DAVE and former STAX owner AL BELL gives an insiders point of view to the phenomenon which was SAM AND DAVE.
THE ORIGINAL SOUL MEN: SAM AND DAVE also includes a 28 page booklet with extensive essays by awarding wining writers GERI HIRSHEY and ROBERT GORDON. The booklet also features rare photographs and memorabilia much of which being published for the first time. A bonus section on THE ROOTS OF SAM & DAVE features three 1963 video performances by legendary Gospel performers THE SOUL STIRRERS, THE DAVIS SISTERS and BROTHER JOE MAY who profoundly influenced the style and sound of SAM AND DAVE.
For THE ORIGINAL SOUL MEN: DAM AND DAVE every effort has been made to locate the best possible sound and video; each performance has been re-transferred and re-mastered from the best-quality original masters (some resting in the television vaults for over forty years). In the case of lip-sync performances, the original multi-track master recordings have been used, replacing the original TV broadcast audio and making for far superior viewing and listening than ever was possible when the programs were originally broadcast
Tracklist
SOUL MAN (1967)
I TAKE WHAT I WANT (1966)
YOU DON'T KNOW LIKE I KNOW (1967)
SOOTHE ME (1967)
ROAD RUNNER (1967)
WHEN SOMETHING IS WRONG WITH MY BABY (1969)
HOLD ON! I'M A COMIN' (1967)
YOU GOT IT MADE (1967)
YOU GOT ME HUMMIN' (1969)
I DON'T NEED NOBODY (TO TELL ME ABOUT MY BABY) (1967)
SOUL SISTER BROWN SUGAR (1969)
LUCKY OL' SUN (1969)
MAKE IT EASY ON YOURSELF (1970)
BORN AGAIN (1969)
I THANK YOU (1969)
LUCKY OL' SUN ( w Mike Douglas) (1969)
BABY DON'T STOP NOW (1970)
SOUL MAN (1980)
YOU ARE SO BEAUTIFUL (2007)
BONUS PERFORMANCES
SOUL MAN ( The Blues Brothers, 1977)
I TAKE WHAT I WANT (1969)
SECRET AGENT MAN (1966)
YOUR GONNA NEED HIM AFTER A WHILE ( Ruth Davis & Brother Joe May, 1963)
WE WILL UNDERSTAND IT BETTER BYE AND BYE ( The Davis Sisters, 1963)
I AM A PILGRIM ( The Soul Stirrers, 1963)