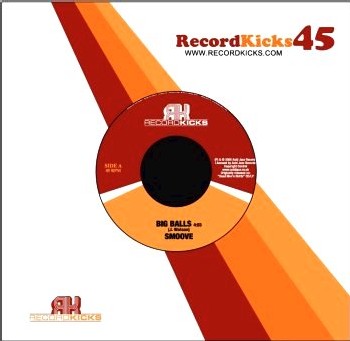 RK 45 OO2 - out now!
A) Smoove "Big balls"
Ecouter
B) Speedometer "Power generation"
Ecouter
Second release for Record Kicks 45, the new 7" collection made up for clubs and dedicated to the best of contemporary funk, soul and dance-floor jazz music. This release features 2 more young bands of promise in the contemporary funk & soul scene, Smoove and Speedometer. Smoove are Sir Eddie Piller's last discovery as far as coolness is concerned. Anticipated by the success of the single "Revolution will be televised", their debut album "Dead Man Shirt", which was just released on Acid Jazz Records, was much praised by the critics. "Big Balls", a groovy dance-floor jazz instrumental track, is an out-and-out irresistible driving force that absolutely validates all the positive reviews on this London based one-man band.
Speedometer have been competing with Sharon Jones & The Dap Kings for the sceptre of best performing funk band for a long time. The band formed in 99 and had the pleasure of working with real myths such as Eddie Bo, Marva Whitney and Lee Fields. Those lucky enough to see them live during one of the countless performances at Camden's Jazz Café know what we're talking about. "Power Generation" is the last single taken from their second album "This is Speedometer vol.2", released by Blow It Hard Records. With gigs in Japan, Speedometer are now definitely one of the funk scene's best bands worldwide! Damn hot dancefloor funk!
Plus d'infos et acheter sur
www.recordkicks.com/catalog