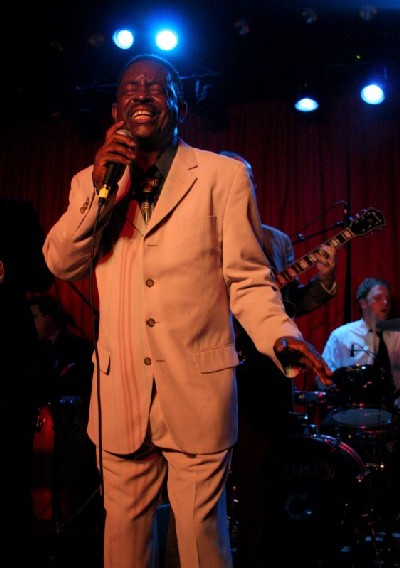 BIO
The Dynamites are 10 pieces of straight-up, badass deep funk and super soul! The band has quickly become a sensation in their hometown of Nashville, Tennessee. Right from their very first gig, a sold-out performance at local showcase club The Basement, The Dynamites began generating Super Soul Excitement with the funkiest band of players imaginable and a front man with the voice and experience to blow the roof off.
Charles "Wigg" Walker is a veteran soul man, having recorded many sides in the '60s and '70s for classic labels like Decca, Champion, and Chess.
His recordings as "Little Charles & The Sidewinders" produced a cult following on England's Northern Soul scene and earned Charles a spot in the footnotes of soul music history, but the man is not ready to rest on his past achievements. Having seen a resurgence of interest in his career thanks to inclusion on the second volume of the "Night Train To Nashville" collections of Nashville-based soul and R&B from back in the day (released in 2005 on Universal/Lost Highway), Charles began performing live in the Nashville area again which brought him to the attention of a hungry young band leader looking for an authentic voice to front a new funk band project.
Bill Elder (aka Leo Black) had the concept for a funk and soul revue brewing in the back of his mind for a long time. Over a two year period, the band slowly coalesced around Bill, with only the front man spot as the final missing piece. Enter Charles Walker and The Dynamites were born!
Taking the stage at their debut gig, the 9-piece band plus super soul singer "blew the roof off... fully earning the implications of their name" claimed alt.weekly The Nashville Scene in their review of the show. Having stated in an earlier interview that he was a better singer now than when he was younger, Charles proceeded to back up his claim with a performance that "work(ed) us up with his impassioned belting before bringing the band way down to explore the quieter subtleties of his rich voice" according to the Scene's review. And here's what the paper had to say about the players: "Though it was their first show, the band laid down some impressively nasty grooves and sounded as well-greased as if they'd just come off 10 weeks on the Chitlin' Circuit." Having earned their status as Nashville's premier funk & soul revue with their first show, The Dynamites proceeded to get their super soul sound down on wax.
The Dynamites have only been a working entity for a few months and they've already cut their debut single, "Come On In" b/w "Slinky", a smokin' hot 45 released on 7 inches of flaming red vinyl from the Outta Sight label (both songs are also available from iTunes). The two tunes are bold and blazing and serve as a righteous calling card for this band who have every intention of taking their special brand of Deep Funk and Super Soul to fans of authentic, heavy-hitting music everywhere
NEWS
L'album de Charles Walker avec les Dynamites ' Kaboom' sort en juin 2007.
Il fera l'objet d'une distribution française via le label Ter à Terre (Sharon Jones & The Dap Kings)
Fin 2007, et il sera en tournée européenne de mi-octobre à mi-novembre...
LIENS
http://www.myspace.com/thedynamitesband
Infos et morceaux en écoute