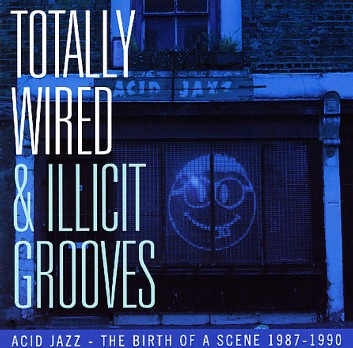 C'est l'âge du label, qui fête ça avec une compilation intitulée Totally wired and illicit grooves, consacrée aux années 87-90...
Sortie le 29 octobre...
1. Fredrick Lies Still - GALLIANO
2. People Get Ready - THE BRAND NEW HEAVIES
3. The Killer - THE NIGHT TRAINS
4. Earthly Powers - A MAN CALLED ADAM
5. Haw Right Now - PATRICE RUSHEN
6. Like A Gun - KING TRUMAN
7. Let The Good Times Roll - QUIET BOYS feat GALLIANO
8. Cut and Run - THE LAZEE MOTHERS
9. Got To Give - THE BRAND NEW HEAVIES
10. Mighty Mouse - CAESAR FRAZIER
11. Spinning Wheel - THE NEW JERSEY KINGS
12. Rejoice In Righteousness - BUKKY LEO
13. Mr PC - SNOWBOY
14. Never Stop - STEVE WHITE
In September 2007 Acid Jazz Records will score a Top 40 hit with the Andy Lewis and Paul Weller single '
Are You Trying To Be Lonely
'. It will be a fine start to the label's 20th anniversary year, one that will be followed up by this compilation charting the label's
formative years, in the form of a tribute to the label's legendary Totally Wired compilation series. These are the first steps in a year-long celebration, which will see a Radio 2 documentary and a DJ tour.
The CD looks at the early Acid Jazz scene through the label's early singles, classic old cuts that filled dancefloors, and essential album tracks. This is the original sound of Acid Jazz as defined by Gilles Peterson and Edward Piller. Its aim is to sum up one of the most vibrant club scenes of the late 80s -the one true alternative to the march of house music.
As well as early singles by Galliano, the Brand New Heavies and A Man Called Adam (featuring Paul Daily of Leftfield), this compilation also sees the first ever CD release of the rarest Acid Jazz single. The single - King Truman's 'Like A Gun' - was in fact a pseudonym for Paul Weller and his Style Council cohorts, and was withdrawn withindays because his record label objected. Only 300 copies escaped and they sell for about £150. This is the first time that Paul has ever allowed it to appear on CD.
The CD is compiled by original Totally Wired compiler Dean Rudland, and has an in-depth interview with Piller and Peterson. ""Totally Wired and Illicit Grooves"" documents a key moment in UK dance music.
www.acidjazz.co.uk
www.myspace.com/acidjazzrecords