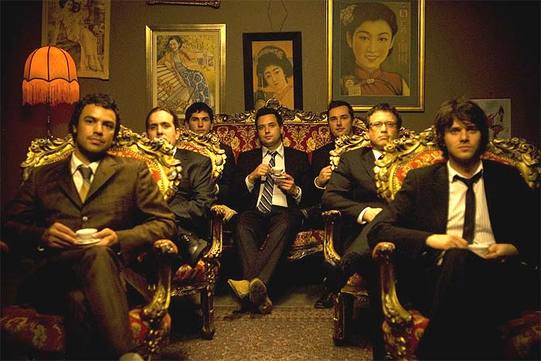 Ca y est, après deux albums unanimement acclamés par le public et la presse,
The Bamboos
rempilent en studio pour un troisième opus haut en couleurs.
Disponible au mois d'octobre prochain sur le label Tru Thoughts, il sera intitulé
Side Stepper
et sera accompagné d'une tournée anglaise et européenne en compagnie de
Kylie Auldist
en novembre et décembre.
Il semblerait que cet album soit plus ouvert que les précédents vers la soul et le funk soulful.
Un premier 45 tours est d'ores et déjà disponible en avant-première chez Tru thoughts.
The Bamboos' version of Kings Of Leon's "King Of The Rodeo" lurches the off-kilter indie-rock favourite into the land of Boogaloo and Mod-Soul, whilst still retaining the innate quirky appeal of the original.
Lying somewhere between The Buddy Rich Big Band's version of "The Beat Goes On", Spanky Wilson's legendary rendition of "Sunshine Of Your Love" and a utopian vision of Mod-fuelled, swinging '60s London – this track is set to prick up the ears of the indie kids as well as setting club dancefloors alight. With just about every Soul act back in the '60s and early '70s doing cover versions of hits of the day, the origins of this art are to be found in the spirit of the Funk/Soul tradition and The Bamboos pick up the baton in style.
An insistent Hammond organ riff underpins the rolling funky drums & flute and sets the scene for the delectable vocals of Melbourne-based singer/songwriter and rising star Megan Washington (EMI). The Bamboos enlisted the talents of Washington to inject the off-beat lyrics with a dose of soulful quirkiness – think: Cute-but-tough, a mixture of '60s Bassey/Spanky/Aretha and the aforementioned Buddy Rich's daughter.
The B-Side of this 7" is "I Can't Help Myself", a collaboration with UK-based MC TY. During TY's last Australian tour he jumped up onstage with The Bamboos for an impromptu freestyle which planted the seeds for this track. "I Can't Help Myself" weaves an irresistible hook over a super-heavy deep Bamboos groove – punctuated with rhythmic horn stabs and incendiary drum-fills.